Bar & Cafe
Whether you are visiting for a catch up, family get together or a special occasion, our bar and cafe offers a relaxed atmosphere to enjoy with friends and family. With stunning views across Lyme Bay, you'll be able to soak up the scenery from our indoor dining areas.
Talk to us
Someone from the team will get back to you as soon as possible!
Your message has been sent.
We will be in touch.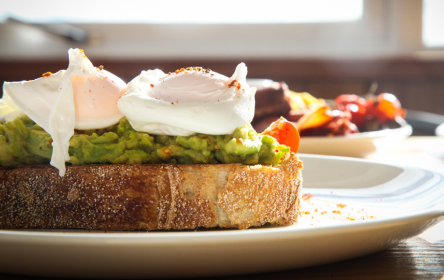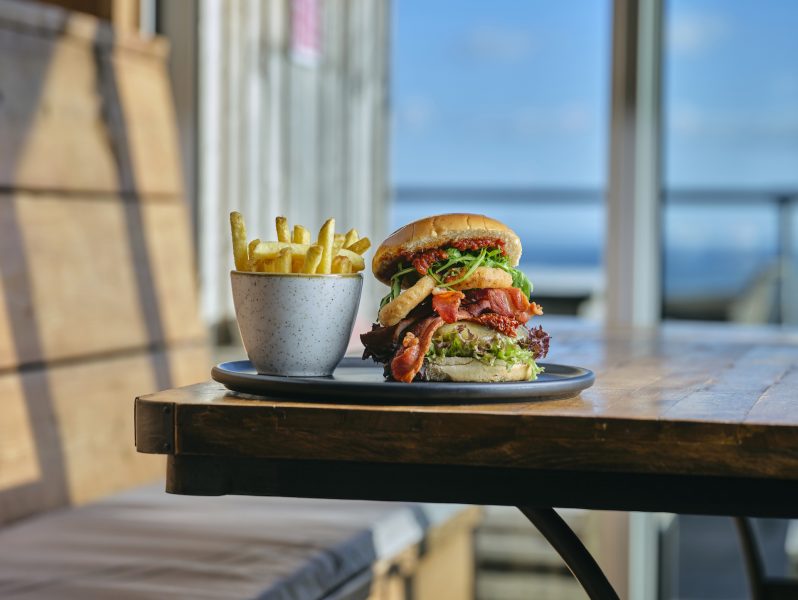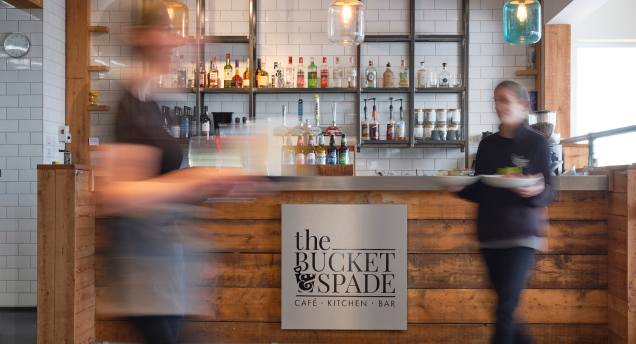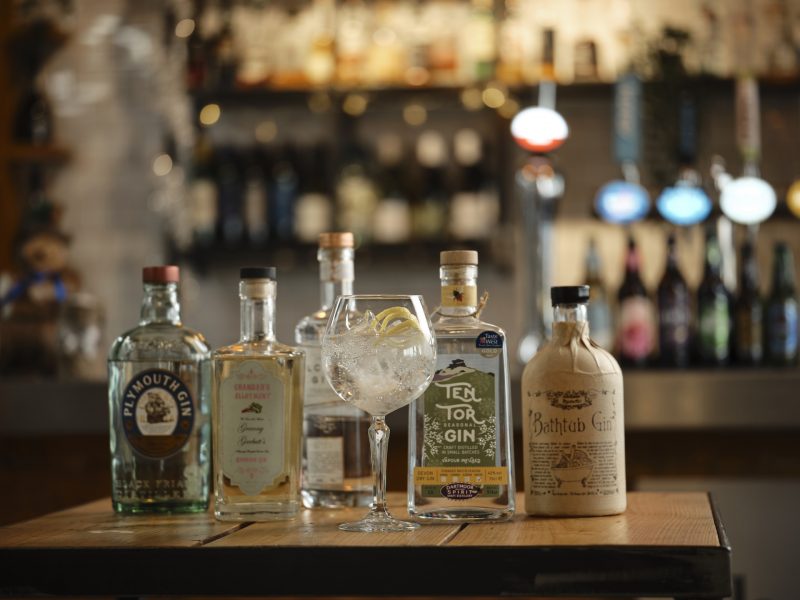 The Experience
Here at the Bucket & Spade we offer casual all day dining in our recently refurbished restaurant, serving popular family favourites at breakfast, lunchtime and during the evening. We're more than just a cafe, kitchen or bar – though we are all those things! – we're a place to meet family and friends, to celebrate and enjoy yourselves within The Bucket & Spade's quintessential holiday ambience.

We proudly focus on locally-sourced produce with many vegan and gluten free options available. We're passionate about supporting our incredible local artisan producers and offer regional beers, wines and spirits from our well-stocked bar.

We're also the perfect spot for a tea or coffee with a friend. Why not try one of our indulgent and tasty homemade cakes.
View our Menus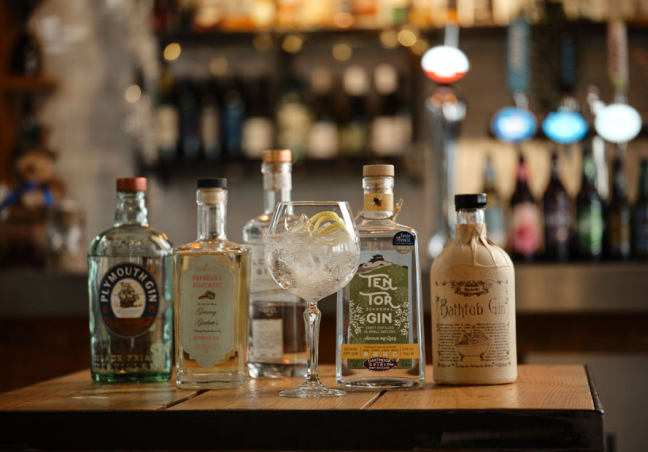 Local Suppliers
We are proud to source a wide range of produce from local suppliers, including The Cowlick Creamery, Brixham Fish Market, WestCountry, Voyager Coffee, Luscombe Drinks, Salcombe Distilling Co., Deck Chair Gin, Regency Wines, Thunderflower Distillery, Sandford Orchards, Bays Brewery and Cove Vodka.

Gluten Free
We offer a tasty selection of gluten free dishes. Please specify when ordering if you have a dietary requirement. Please note, dishes are prepared in an environment where gluten is present.
Vegetarian and Vegan
We're passionate about catering for everyone so always endeavour to provide a number of vegetarian and vegan dishes. Please don't hesitate to contact us if you have any questions.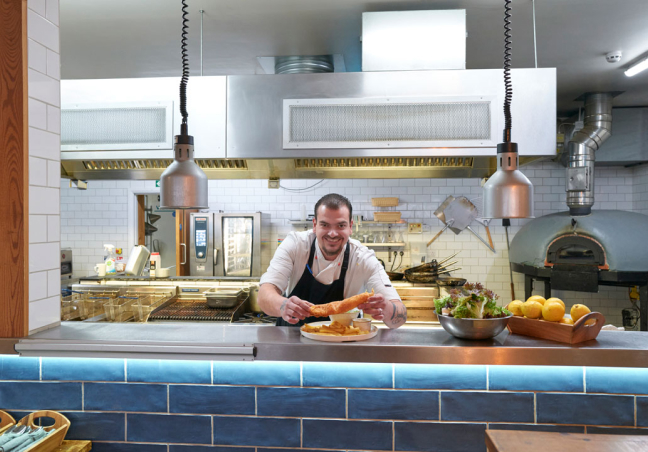 The Service
Recently awarded Gold in the Best Restaurant & Pub category and Silver in the Best Bar category at the Food Drink Devon Awards, we're proud of our hard working team who ensured we achieved this fantastic accolade. Once Shaldon's best kept secret, our reputation now brings new and returning customers from both near and far.
View The Team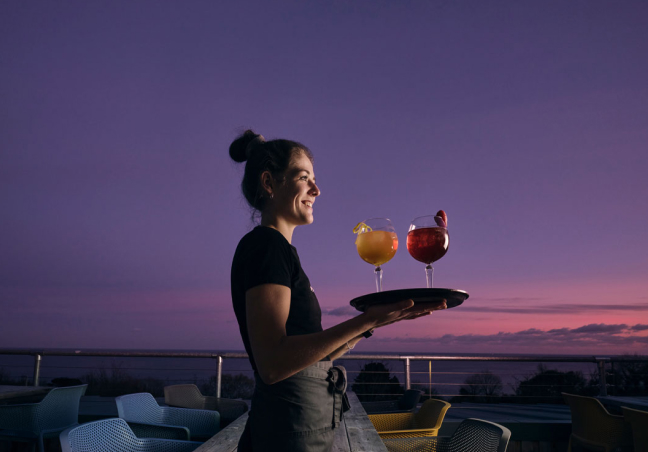 Events
Throughout the year we host an array of events for all to enjoy, including live music from Ollie Stephens. Check our events page for upcoming dates and follow us on social media for regular updates.
Events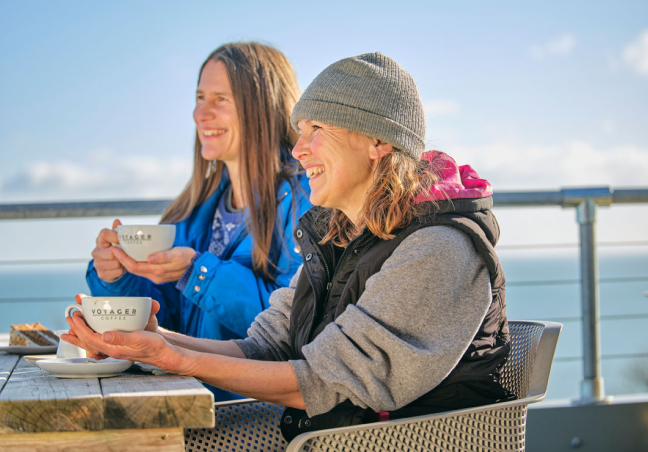 Stunning Views
Relax and unwind and enjoy incredible panoramic views from the Terrace on a sunny day or enjoy the sweeping seas whilst you dine from inside our spacious restaurant during the cooler months of the year. Relish sightings of yachts, motorboats, fishing vessels and even the odd cruise ship!
The Terrace
Monday to Saturday | 9am – 8.30pm

– Breakfast

9am – 11:30am

– Lunch

12pm – 3pm

Sunday | 9am – 5:30pm

– Breakfast

9am – 11am

– Lunch

12pm – 2.30pm